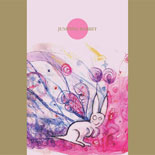 För en tid sen såg jag Virpi Pahkinen uppträda på Dansmuseet till i mitt tycke ytterst suggestiv japansk koto-musik. Musiken visade sig vara specialkomponerad för dans av japanskan Chieko Mori.
Koto är ett traditionellt japanskt instrument med 13 strängar, Ganska stort – 180 cemtimeter långt. Kommer antagligen ursprungligen från Kina. Kanske är det besläkat med det kinesiska Qin som Cecilia Lindqvist beskriver i den vackra boken med samma namn (ISBN: 9789100105808). CDn som följer med boken med exempel på Qin-musik finner jag dock helt olyssningsbar.

Det verkar som om Chieko Mori bara gett ut två egna CD hittills. Av ren nyfikenhet beställde jag den första CDn "Jumping Rabbit" från 2005.
Skivan är kanske lite ojämn men det här låter i mina öron som japansk minimalism. Repetitivt, meditativt, lite mer varierat än Polarpristagaren Steve Reich, lite lugnare än tysk techno, österländskt men modernt. Ibland på gränsen till det banalt enkla, men kanske just därför så intressant? Mycket vackert.
Så här presenteras Jumping Rabbit:
Studying koto since the age of three, Mori Chieko is one of the world's most versatile koto virtuosos. She has spent long periods in Italy, London and the United States, collaborated with Michael Galasso, and created music for dance, film and theater, including several productions by Robert Wilson. Her first CD for Tzadik was recorded in both Italy and New York, and presents a beautiful series of pieces for solo koto, and koto and voice. Lyrical and meditative, Jumping Rabbit is a CD of remarkable beauty and heartfelt emotions.
Andra bloggar om: musik, Japan, Chieko Mori, koto, minimalism